Every journey needs to be an experience. At Infinity Travel we are deeply committed to make this experience an unforgettable one. Inspired by the dynamism and vision, Infinity Travel lays the greatest emphasis on quality of travel aimed at total client satisfaction. Our professional approach focuses on personal preferences and personalized services to make the traveler feel at home far away from home. We rely on the most advanced travel concepts and technologies to accommodate the fast changing trends in world travel. With a highly divergent portfolio of services we seek to serve every customer segment in a way that best suits them, be it individuals, groups or corporate travelers. As the name delivers, providing an infinite level of enjoyable memories with the unforgettable experience for passengers. Our professional approach focus on the quality of travel which aims at total client satisfaction. We work as the motive to maintain the services and we are known for and getting the appreciation as best travel agent Abu Dhabi, and travel company UAE. We are focused on constant change at all levels, aiming to accomplish add up to consumer loyalty. Our Offices are very much outfitted with present-day innovation to set up the worldwide connection with the Airlines, Hotels, Tour Operators and Rent-a-Cars all through the world. Certificate of Appreciation awarded to Infinity travels in recognition of outstanding support as best travel agent in Abu Dhabi.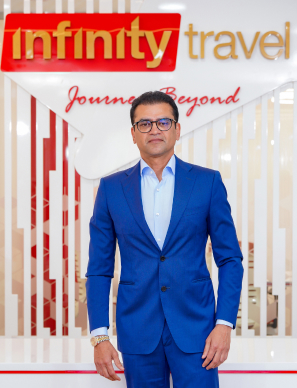 Distant lands. Different people.
Travel brings them together and makes the world a better place for coexistence. At Infinity, we perceive travel as a journey beyond geographical boundaries, a voyage into other cultures, other legacies of the past and sometimes a back-track into time. We understand the travellers' mindset, identify their aspirations and strive to cater to their needs in the best way possible.

Travel and tourism are not a business for us. It is a passion that inspires us. A challenge that excites us. We harmonise the art of the explorer with the science of modern travel to give every one of our customers a travel experience beyond the ordinary, giving them choices as infinite as their personal preferences. To be your preferred travel partner is our goal. And you have my word that we will go the extra mile to make you smile.
Ubairis
Managing Director